Early Socialization Curriculum
For ages 18 months to 2½ years
Academic
All work is done both in English and in French
Letters/vocabulary:
learning our A-B-C's
word games for recognition that letters are associated with words (e.g., "C" for cat)
storytime
matching games
activities to promote expression (speaking)
learning Spanish with our Spanish teacher
Numbers:
understanding concepts of size (big/small)
placing objects in order of size
counting activities
Science:
planting seeds
learning about farm animals
learning about insects
learning about frogs and lizards
performing simple science experiments (hot/cold)
learning about healthy food
Creative
Music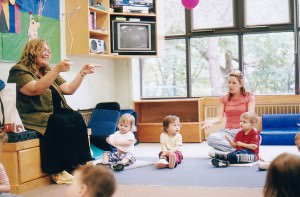 lessons once a week given by our music specialist
musical activities in class with our teachers including singing and dancing
creating our own orchestra
hearing different types of music during our theme weeks
special events with professional musicians
Arts & Crafts
art program activities designed to maximize the child's involvement
Exploring with different art media (e.g., crayons, paint, playdough, etc.)
crafts with our teachers to decorate our classrooms
crafts to bring home for special occasions (e.g., mother's day)
exploring the science of art (e.g., mixing colours)
Theatre
puppet shows with our own puppet theatre and puppets
imaginary play with our dress up box
creative pretend play days (e.g., funny hat day)
special events with professional theatre groups (children's puppet shows or plays)
Physical activities
Music and Movement
games with balls, hoola hoops, balloons, scarves, etc.
musical games
games to promote development of gross motor skills
Playground activities.  We have a separate, beautiful playground area for our younger students! We play outdoors every day unless it is raining or temperatures are extreme.
games with playground cars and trucks and other toys
sand play
interacting with our friends outdoors
games with our teachers to promote gross motor skills and social skills (e.g. parachute play)
Optional programs (You may register your child for these program, there is an additional fee)
Social
learning how to get along with other children
learning to be independent (including separating from mom and dad, and learning to do things for ourselves)
being able to wait for our turn
learning to share
becoming confident
learning to ask for a teachers assistance if needed
learning how to be a helper
learning how to follow instructions
learning to watch a performance
learning the limits of our behaviour